About
We are a locally run company located in beautiful Sedona, Arizona, USA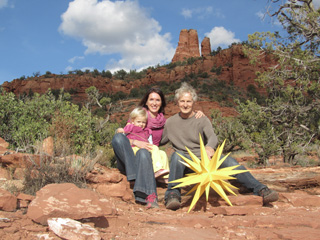 We are passionate about our stars!
Hi, this is Sandy, Dieter and our little daughter Lena. Sandy and Dieter grew up in Germany, just a few kilometers away from the town of Herrnhut, where the original Herrnhut stars were conceived.
We came to the United States about ten years ago. We absolutely love to live here, but we also always missed the beautiful stars that we grew up with and which belong to our dearest childhood memories. So we decided to bring our stars to the US. In October 2011 Sandy founded the company "My Star of Bethlehem LLC".
Our stars are three dimensional structures that are incredibly beautiful. To Christian people they symbolize the Star of Bethlehem. It is our goal to light (at least :) one star in every American household!
Back to Home Page
Shop Our Stars
Please choose from these categories:
| | | | | |
| --- | --- | --- | --- | --- |
| | Exterior | | Interior | |
| | All Year | | Magic Glow | |
Assembly Video
New! Check out our Assembly Video!

This video demonstrates how to assemble your Star of Bethlehem, specifically model A7. Other models, however, would be assembled in the same way. The differences lie in the type of connectors used, e.g. pins versus screws or clips.

When assembling a paper star make sure to wiggle open all holes with a pointy knife first.
Contact
My Star of Bethlehem LLC
Email: info@mystarofbethlehem.com
Phone: 347-762-5176